The new 2022 Triton Series premium Azzurro Mare boats just arrived in very limited quantities, while in stock you will be able to select the "Triton" upgrades under the model selection. The Triton improvements on this model include heat-welded seams, top-of-the-line Heytex PVC, UV protection tub covers, and premium Leafield inflation and pressure relief valves ($400 value compared to our standard version). Order yours now as these are the only Azzurro Mare model boats that will be in stock this year in the entire USA.
Premium Azzurro Mare boats are made by Saturn Inflatables for the European market and are now available in the USA. The Azzurro Mare Series AM330 now comes with a FREE boat tubes cover to protect the boat from damaging UV rays and to extend the lifespan. That is a premium cover and over $200 in added value. Azzurro Mare boats are of exceptional quality workmanship and covered by our upgraded 5 year warranty against manufacturer defects ($300 value).

The 11' AM330 boat is great as a ship-to-shore dinghy or tender for main ship. Some of the great advantages of this model include;
5 Year Manufacturer Warranty for transom and hull seams on all AM boats.
Extra interior space for gear
Attractive Euro-style squared shape bow adds more useful space in front.
The V-shaped bottom of AM inflatable boats is made of Extra heavy-duty 1.5mm PVC, which is almost twice the thickness of heavy-duty 0.9mm (1,100 denier) PVC.
Round end tubes provide more buoyancy and support for heavier engines.
Transom holders are re-enforced with additional layer of PVC to protect against UV-rays.
Two lifting D-rings added inside front bow for the securing of additional equipment.
Air valve of air floor is protected with a cover to keep dirt and water away.
Once deflated and folded, inflatable boat can be easily stored in the trunk of your car. These boats are European CE-certified, also certified by German LLoyd. Come with all paperwork for registration in the US
Boat Tech Specs: While our Triton Series Azzurro Mare boats offer various premium features that other competitive brands are lacking, we are still able to offer sale prices well below other comparable inflatable boat brands. And we back it all with a 5 Year Manufacturers Warranty!
Azzurro Mare Inflatable Boat Customer's Review: "I bought one of your Azzuro Mare inflatables last year, and have been using it almost daily since then - I live aboard, so the dinghy sees almost constant use. I'm very impressed with the durability and the quality of construction of your boat; for the price, I don't think it's possible to find a better one. I say this with some authority: I've lived on board for 20 years now, spent 7 years of that in the Caribbean, and have used and owned a wide variety of boats." Ben "The Azzurro Mare has exceeded my expectations. Love taking it snorkeling. It turned lots of heads on Crab Island in Destin Florida. Everyone asked where the boat was from. I sent them your way." Kelly "Loving the tender, I've attached some pictures you can use if you like. thanks!" Taylor, Capt. Los Angeles, CA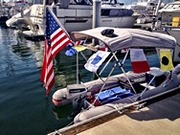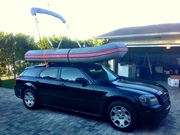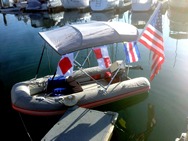 Boat Specification
Floor:
Air Deck Floor (6psi)
Max Outboard Motor:
15 HP (15" Shaft / 125 lbs)
Nylon Carrying Bag:
Included Standard
Packing Size:
45" x 24" x 13"
Paddles:
2 Included (Aluminum)
Rubber Strake Protection:
Included Standard
Total Weight (Incl. Floor):
110 lbs (Air Floor)
Valves:
Upgraded Leafield Valves
Speed (Approx.):
17 mph (10HP w/2 adults)
Stainless Steel D-Rings:
Included