14' Saturn Triton Heavy-Duty Inflatable Boat
The new 2023 model with our "Triton" series improvements (optional) are arriving soon. The Triton Series upgrades represent over $400 additional value and include; upgraded imported PVC ($75 value), heat-welded seam technology used by our Saturn Triton manufacturer with over 10 years of high frequency heat-welding expertise, Leafield D7 inflation valves ($150 value) and Leafield PRV valves ($80 value), and an extended 3-year warranty ($100 value). The boat technical specifications are nearly identical between the Triton model (TRHD430) and our standard version (HD430). These Triton series improvements incorporate the newest technologies in inflatable boat construction and provide an incredible value for those looking to put their boat to the test. If available, this option will be listed under the "Model" selection.
Based on extremely popular FB series of boats, our brand new 14' Saturn Heavy Duty (HD) boats are made with premium quality PVC materials, extra thick top wear strips, fishing rod holders, higher buoyancy tube design, Leafield inflation valves ($150 value), Leafield pressure relief valves, and 5 external air chambers. These new features are highly desired by those looking for maximum capacity and durability for commercial operations. The Saturn heavy-duty HD430 boat can accommodate up to a maximum of 40 HP outboard motor, but will plane easily with a smaller 15-25 HP outboard. The HD boat tubes are produced with our advanced high-frequency heat welding construction method and also have extra-reinforced transom holders to accommodate larger motors.
The newly designed extra wide and extra thick rub strakes at the bottom of the tubes (borrowed from our Fishing Boat design) and along the keel provide extra protection from sharp rocks and abrasive sand. The pressure relief valve aids in preventing excessive air pressure in the external air chambers.

What makes these boats so unique is a double grommet splash line running along the top of the tubes, which also has a "rhino-tough" rub strake in between them to add additional protection to the top tube. It is well known that space inside inflatable boats is hard to come by and is almost always lacking. To address this issue we invented a new (patent pending) cargo lacing system on top of the tubes, providing more protection for getting in and out of the boat with sharp gear. This design provides an unmatched ability to store gear on the tubes rather than entirely within the confines of the boat hull. This specific area is designed to be used for extra cargo, such as diving gear, fishing rods, coolers, boxes or duffel bags, etc. Any type of gear can be stored during use with bungee cords or tie downs between the grommets.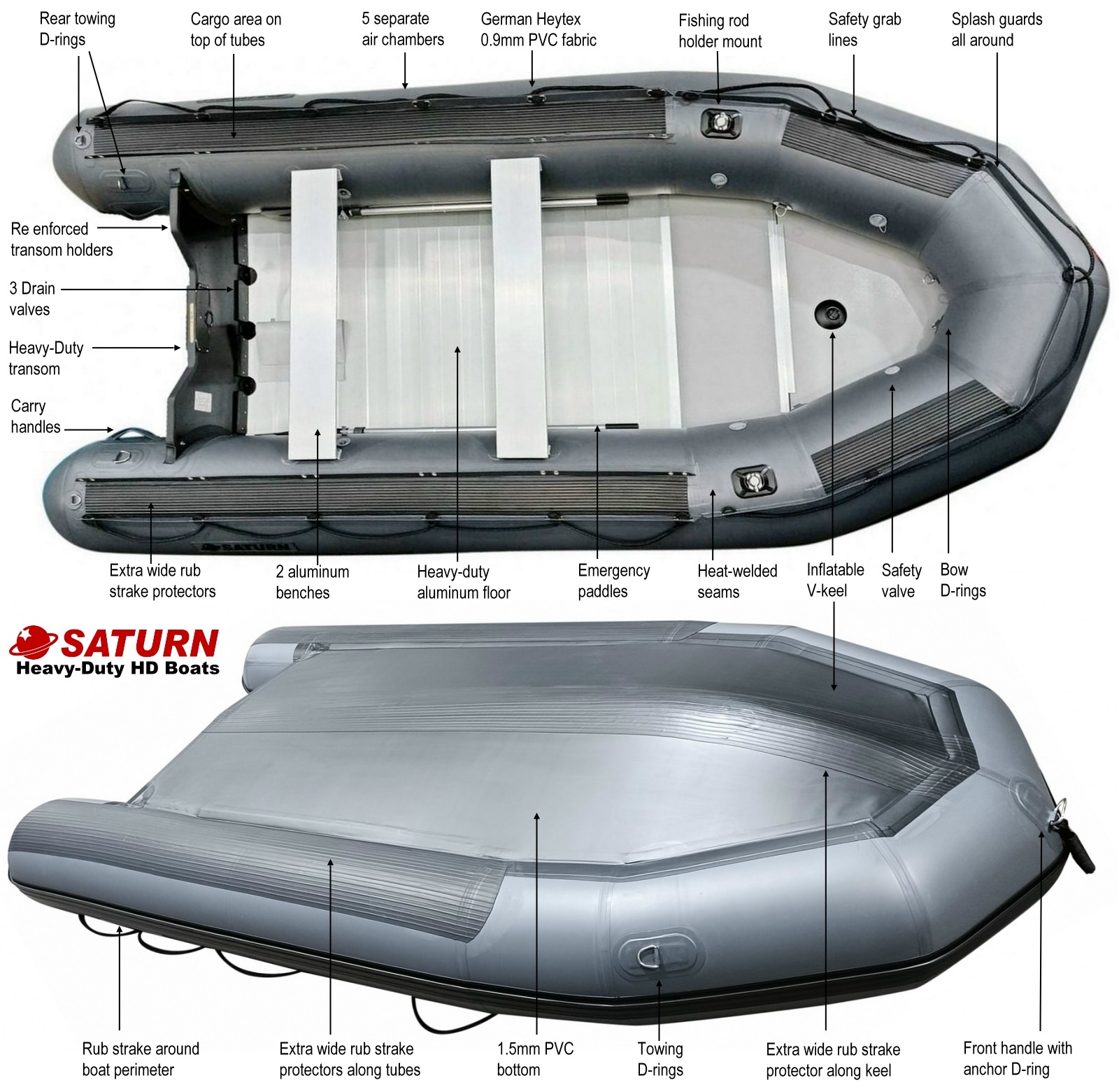 We simply left no stone unturned in our quest to make the most accommodating 14' inflatable fishing boat in the industry with additional upgrades that include a heavy-duty sectional aluminum floor, extra protection layers all over, numerous D-rings and grommets eyelets, and reinforced carrying handles. All of these features make the Saturn HD430 inflatable fishing boat an excellent choice for fishing, hunting, work, hauling, diving, pleasure cruising or as dinghy tender for yacht or sail boat.

The Saturn HD430 inflatable boat comes with a 5 section heavy-duty aluminum floor. Please note that the side tubes and keel must be inflated between 2.5-3 psi to avoid excess strain on the aluminum floor.
Specifications:
Triton upgrades for this model (TRHD430) include Leafield inflation valves, Leafield pressure relief valves, and our Triton manufacturing high-frequency heat welded construction with over 10-years of heat-welding expertise refined by building inflatable boats for some of the premium brands in the world!

Heavy-duty 1100 Denier PVC.
Double line of grommet lines to secure cargo on top of tubes.
Splash guards with safety grab rope.
Extra thick and wide rub strake protector on top of tubes.
Extra thick and wide rub strake protector on bottom of tubes.
Extra thick and wide rub strake protector on bottom of keel.
Additional 1.5mm PVC layer on bottom of tubes.
Bottom V-keel section of the boat made of 1.5mm PVC.
Two mounting brackets and custom fishing rod holders (included).
Extra D-rings in the bow area and on top of tubes in the rear.
Towing D-ring on bottom of tubes in a bow area.
Sectional heavy-duty aluminum floor
(see the Attachment Tab for installation steps)
Front stainless steel handle with integrated D-ring for anchor rope.
Boat tubes shipping size 59x29x14", Floor shipping size 48x28x6"
Additional holders for rowing oars inside tubes.
Included: hand pump, repair kit, carry bag, 2 aluminum benches, anchor rope, 2 fishing rod holders, and rowing oars.
Duffel bags and fishing rods shown for illustration purposes only. Not included.
Boat Specification
Floor:
Sectional Aluminum
Max Outboard Motor:
40 HP (15" Shaft / 175 lbs)
Nylon Carrying Bag:
Included Standard
Packing Size:
Approx. 60"x30"x16"
Passenger Capacity:
Up to 7
Rubber Strake Protection:
Included
Total Weight (Incl. Floor):
235 lbs
Tube Diameter:
Extra Large 20"
Valves:
Standard NARU Valves / Triton Leafield Valves
Warranty:
3 Year Retail / 1 Year Commercial
Speed (Approx.):
30 mph (40 HP w/2 Adults)
Stainless Steel D-Rings:
See Photos for Locations