The new 2023 model with our "Triton" series improvements (optional) are arriving soon. The Triton Series upgrades represent over $400 additional value and include; upgraded imported PVC ($75 value), heat-welded seam technology used by our Saturn Triton manufacturer with over 10 years of high frequency heat-welding expertise, Leafield D7 inflation valves ($150 value) and Leafield PRV valves ($80 value), and an extended 3-year warranty ($100 value). The boat technical specifications are nearly identical between the Triton model (TRFB365) and our standard version (FB365). These Triton series improvements incorporate the newest technologies in inflatable boat construction and provide an incredible value for those looking to put their boat to the test. If available, this option will be listed under the "Model" selection.
We're excited to announce that our 2023 models now come equipped with an inflatable dropstitch floor, which has a remarkable stability and portability rating of over 10 psi. With this feature, you'll enjoy exceptional performance without compromising on stability or ease of use. Plus, you'll save valuable time during boat prep, as this floor reduces setup time by approximately 10 minutes. Don't miss out on the enhanced experience that our 2023 models have to offer!
The all new 12' Saturn Triton Inflatable Fishing Boat now includes 2 custom rod holders and connection attachments for a front bow motor mount (motor mount itself is sold separately and not included). This model was based on our popular FB300 boat but beefed up to provide space for more gear and passenger room. Our FB series boats were designed to take a serious beating to the top of and bottom of the exterior tubes. The tube construction is made from the same heavy-duty, commercial grade 1100 DTEX PVC common to most of our other Saturn boats, but on top of that we added extra wide and extra thick rub protectors on the bottom of tubes, over keel, and on top of the boat tubes. It's like a Rhino liner for the high impact areas of your boat.
In addition, there is a 2nd layer of extra thick 1.5mm PVC glued along the bottom of the tubes, all the way up to rub strakes on side of tubes. And, whole vessel bottom is also made of extra heavy-duty 1.5mm PVC fabric. That is the most extra protection available for any inflatable 12' fishing boat on the market today!
It is well known that space inside inflatable boats is hard to come by and is almost always lacking. To address this issue we invented a new (patent pending) cargo lacing system on top of the tubes, providing more protection for getting in and out of the boat with sharp gear. This design provides an unmatched ability to store gear on the tubes rather than entirely within the confines of the boat hull.
The Saturn FB365 (and the upgraded TRFB365 model) inflatable motor boat features two grommeted PVC strips that are shifted off center of tubes, leaving enough space to store cargo on top of tubes. Any type of gear can be strapped down using bungee cords, ropes, tied downs or straps.
The Saturn FB365 (and the upgraded TRFB365 model) is an extra heavy-duty inflatable boat, primarily designed for fishing. We even added a motor mount attachment point to the bow to accommodate an electric trolling motor when fishing. The motor mount itself can be purchased as a separate accessory and is suitable for up to a 55lbs electric trolling motor. In addition, two sockets for detachable fishing rod holders (2 rod holders are included in the 2023 model) were added on top of the tubes in the bow area. We simply left no stone unturned in our quest to make the most accommodating 12' inflatable fishing boat in the industry with additional upgrades that include a heavy-duty dropstitch inflatable floor, extra protection layers all over, numerous D-rings and grommets eyelets, and reinforced carrying handles. All of these features make the Saturn FB365 inflatable fishing boat an excellent choice for fishing, hunting, work, hauling, diving, pleasure cruising or as dinghy tender for yacht or sail boat.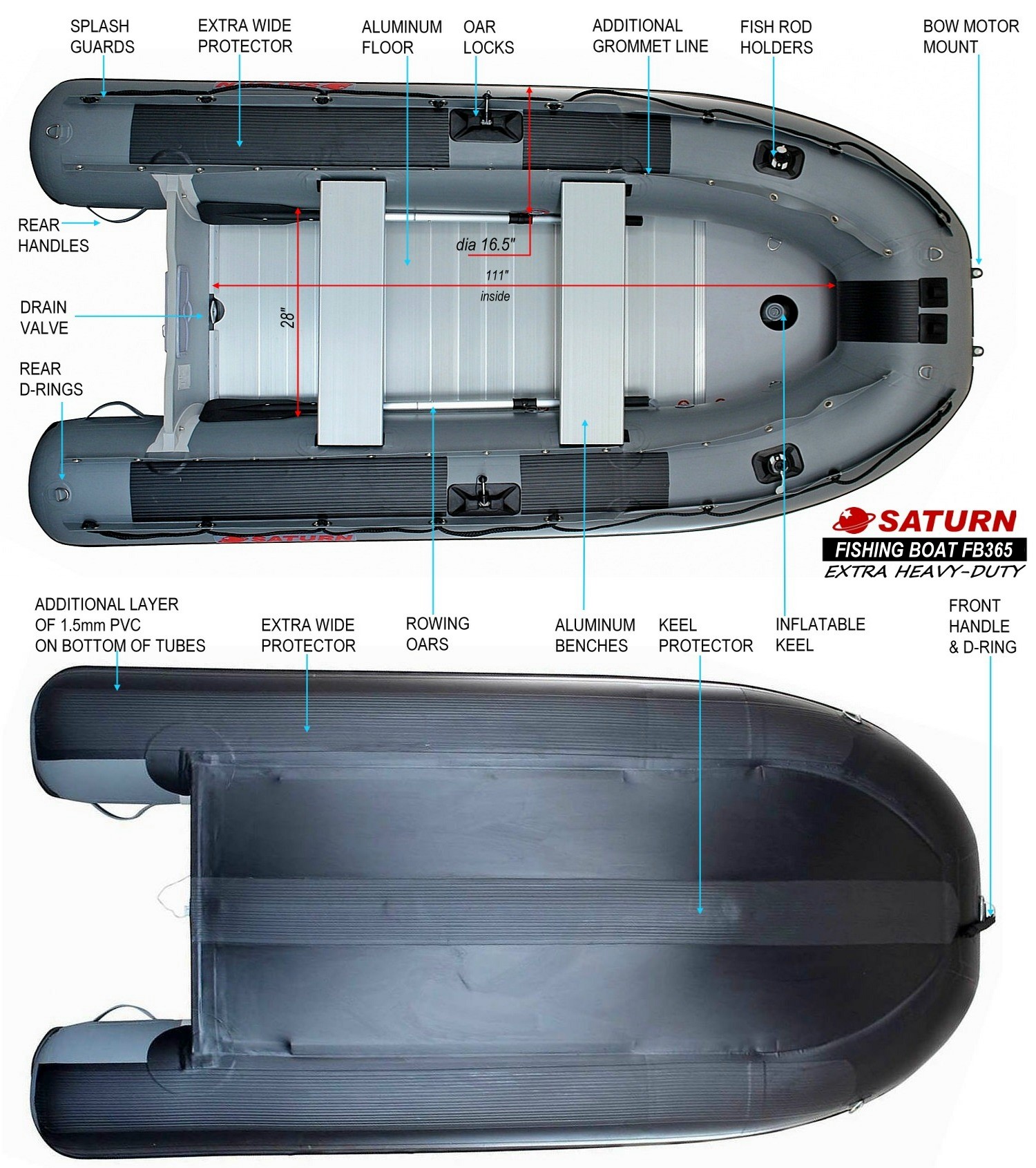 Specifications:
Same 0.9mm heavy-duty 1100 DTEX PVC as in SATURN boats & rafts.
Double line of grommet lines to secure cargo on top of tubes.
Splash guards with safety grab rope.
Triton Model includes upgraded high-frequency heat-welded seam construction and Leafield valves!
Extra thick and wide rub strake protector on top of tubes.
Extra thick and wide rub strake protector on bottom of tubes.
Extra thick and wide rub strake protector on bottom of keel.
Additional 1.5mm PVC layer on bottom of tubes, up to side rub strakes.
Bottom V-keel section of the boat made of 1.5mm PVC.

Detachable bow motor mount (not included but can be purchased separately) for electric trolling motor

.
Two rod holder mounting brackets and custom fishing rod holders (included).
4 x D-rings in a bow area and 2 x D-rings on top of tubes in rear.
Towing D-ring on bottom of tubes in a bow area.
Single piece heavy-duty dropstitch inflatable floor
(see the Attachment Tab for installation steps)
Front stainless steel handle with integrated D-ring for anchor rope.
Boat tubes shipping size 45x25x17", Floor shipping size 38x28x5"
Additional holders for rowing oars inside tubes.
Included: hand pump, repair kit, carry bag, 2 aluminum benches, anchor rope, 2 fishing rod holders, and rowing oars.
Duffel bags, fishing rods, and motor bow motor mount shown for illustration purposes only. Not included.
Boat Specification
Floor:
Dropstitch Inflatable Floor (10 psi!)
Max Outboard Motor:
25 HP (15" shaft / 140 lbs)
Total Weight (Incl. Floor):
130 lbs