The new 2022 model with our "Triton" series improvements are hot! The Triton Series upgrades represent over $400 additional value and include; upgraded PVC construction ($75 value), heat-welded seam technology ($150 value), Leafield C7 inflation valves ($80 value), and an extended 3-year warranty ($100 value). The boat technical specifications are nearly identical between the Triton model (TR470) and our standard version (XHD470). These Triton series improvements incorporate the newest technologies in inflatable boat construction and provide an incredible value for those looking to put their boat to the test. If available, this option will be listed under the "Model" selection.
The 15 foot inflatable boat SATURN SD470is a heavy-duty workboat excellent for any water based activity, such as fishing, day trips or scuba diving. It now comes standars with the upgraded sectional aluminum floor ($200 value). The SD470 is a recent addition to the SATURN line of high performance inflatable boats. New, Limited Edition Special Ops black color SD470 are now available. It is a real inflatable military boat that can be used for any mission where durability and practicality is important.
15' SATURN SD470 inflatable boats are made with premium quality materials, and can handle up to a maximum of 8 persons.
SD470 inflatable boats are made of 1100 DTEX Korean PVC fabric with polyester support that has excellent resistance to tearing, tension and breaking. It is a much more heavy-duty PVC fabric than most of our competitors with 1000 denier PVC boats. The heavy-duty outer layer, protects the boat against UV rays, ozone and abrasion, and inner layers provides perfect strength and adhesion.
Deflated, the SD470 boat will fold to the size of one large and heavy bag with tubes and another large and heavy flat bag with a floor. Once deflated and folded, the SD470 can be stored in the back of your SUV or minivan, large closet of your apartment or in a garage.
Double layers of fabric at the bottom of the tubes and a rub-strake protector along the keel provide extra protection from sharp rocks and abrasive sand. The safety valve will prevent excessive air pressure in the boat's chambers.
15' SATURN inflatable boats come standard with the sectional heavy-duty aluminum floor. The bow section is made of a marine grade plywood floor covered with a gray resin.
To see this 15' Saturn Triton Dinghy using a 9.8 HP Motor please click on this link.
SATURN SD470 FEATURES:
All around rope grab line.

Separate internal air chambers.

One-way drain valve with plug.

All around, durable rubber strike.

Safety valve to prevent over inflation.

Stainless steel D-rings for easy towing.

Reliable flat air valves with pushpin design.

Front bow D-ring with integral lifting handle.

Spare rope for attaching anchor is included.

Double layer of fabric at the bottom of tubes.

Holds up to 8 persons maximum or 5-6 comfortably.

Deep inflatable V-keel with a rub strake protector.

Heavy-duty marine grade aluminum floor is included.

Extra thick heavy-duty marine grade plywood transom.

Lightweight and strong removable aluminum seat benches.

Equipment: T-paddles, repair kit, seat benches and carry bag.

Free, complimentary generic high-volume hand pump is included.

For the list of optional available options please visit our Accessories page.
SECTIONAL ALUMINUM FLOOR INSTRUCTIONS
(SAME INSTALLATION AS WOOD FLOOR BUT WITH ALUMINUM SECTIONS)
The advantages of our upgraded aluminum floor is its durability and rigidity. Puncture-proof hard floors offers impressive reliability and practicality.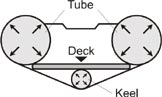 Aluminum or Plywood Floors can be custom ordered from factory to get shipped with our future containers. If you don't see floor in stock for your mode, please email us to place custom order. Standard floor that comes with boat can not be substituted for another floor. However, additional or replacement floor can be ordered by contacting us at (208)350-6572.
Assembly Instructions:
Please download Plywood or Aluminum Floor assembly manual for more information.
Don't be frustrated if installation seems challenging the first time. It will become much easier with each following assembly/disassembly.
It is recommended that installation be completed by 2 people in order to make connecting each section easier, at least at the beginning.
Aluminum side stringers are designed to cover joint points of floor blocks, they are not suppose to run the whole length of the floor.
Keep sharp edges of aluminum floor away from tubes, or cover with duct or painters tape during installation.
Make sure tubes are fully inflated to squeeze stringers into floor channels. Boat tubes should not have any wrinkles and should be rigid to the touch.
Inflate the keel first, and position it such a way that the air valve is on top and in a middle of the keel. Then deflate the keel while keeping the valve in a middle of the keel. You will need it to make sure keel valve is properly positioned against the opening in the first section of the floor.
Place floor inside the boat hull such way that there is equal distances left between edges of the floor plates and edge of the boat bottom. You will need these spaces to install the aluminum stringers.
Plywood floor assembly details are shown below but the aluminum floor detail are the same. Insert stringers into side edges of floorboards. Side edges of floorboard should easily fit into C-channel of stringer.
Connecting Two Floor Segments is Simple and the Aluminium Stringers Lock them in Place
Top View
Bottom View
Correct stringer position
Boat Specification
Max Outboard Motor:
40 HP (15" Shaft / 175 lbs)
Nylon Carrying Bag:
Included Standard
Packing Size:
59" x 29" x 14"
Paddles:
2 Included (Aluminum)
Rubber Strake Protection:
Included Standard
Total Weight (Incl. Floor):
235 lbs
Valves:
Upgraded C7 Style
Warranty:
2-Year (3-Year with Triton)
Speed (Approx.):
30 mph (40 HP w/2 Adults)
Stainless Steel D-Rings:
Included Standard