9'6" Azzurro Mare AM290 Premium Triton Series Inflatable Boat. Upgraded 5 Year Warranty & FREE Tube Cover for UV Protection ($300 value)
The new 2020 Triton Series premium Azzurro Mare boats will be in stock in July in very limited quantities. The Triton improvements on this model include heat-welded seams, top-of-the-line German Mehler PVC, and upgraded inflation valves ($400 value compared to our standard version).

The AM290 inflatable dinghy has an upgraded wider transom that can handle up to a 10 HP short shaft (15" recommended for best performance) outboard motor and can carry up to 4 people. These boats are European CE-certified, also certified by German LLoyd, and come with all the paperwork required for a quick registration.
If you are looking for a dinghy tender it is well known that reliability is critical and the Azzurro Mare brand provides upgraded improvements at budget pleasing prices. Consider this inflatable boat if you believe a dinghy is near to the most important piece of equipment a cruiser can own. A 10HP outboard motor installed on this boat will fly over the water at top speeds in excess of 20 mph with 1 passenger and limited gear. A 5 HP motor will put the boat on plane and will provide a great transport from sea to shore. The dropstitch air floor is truly exceptional and among the most rigid inflatable floor you will find in the world (rated over 8 psi which is over 200% more rigid than most 3 psi rated inflatable floors). You can stand on the floor just as you would on a plywood or aluminum section floor. The deflated boat breaks down nicely and will only require the removal of the seats and oars. The deflated boats will easily fit in a large cuddy with dimensions around 40"x30"x24" (about 3'x3'x2') and doesn't take up much more space than a large travel bag.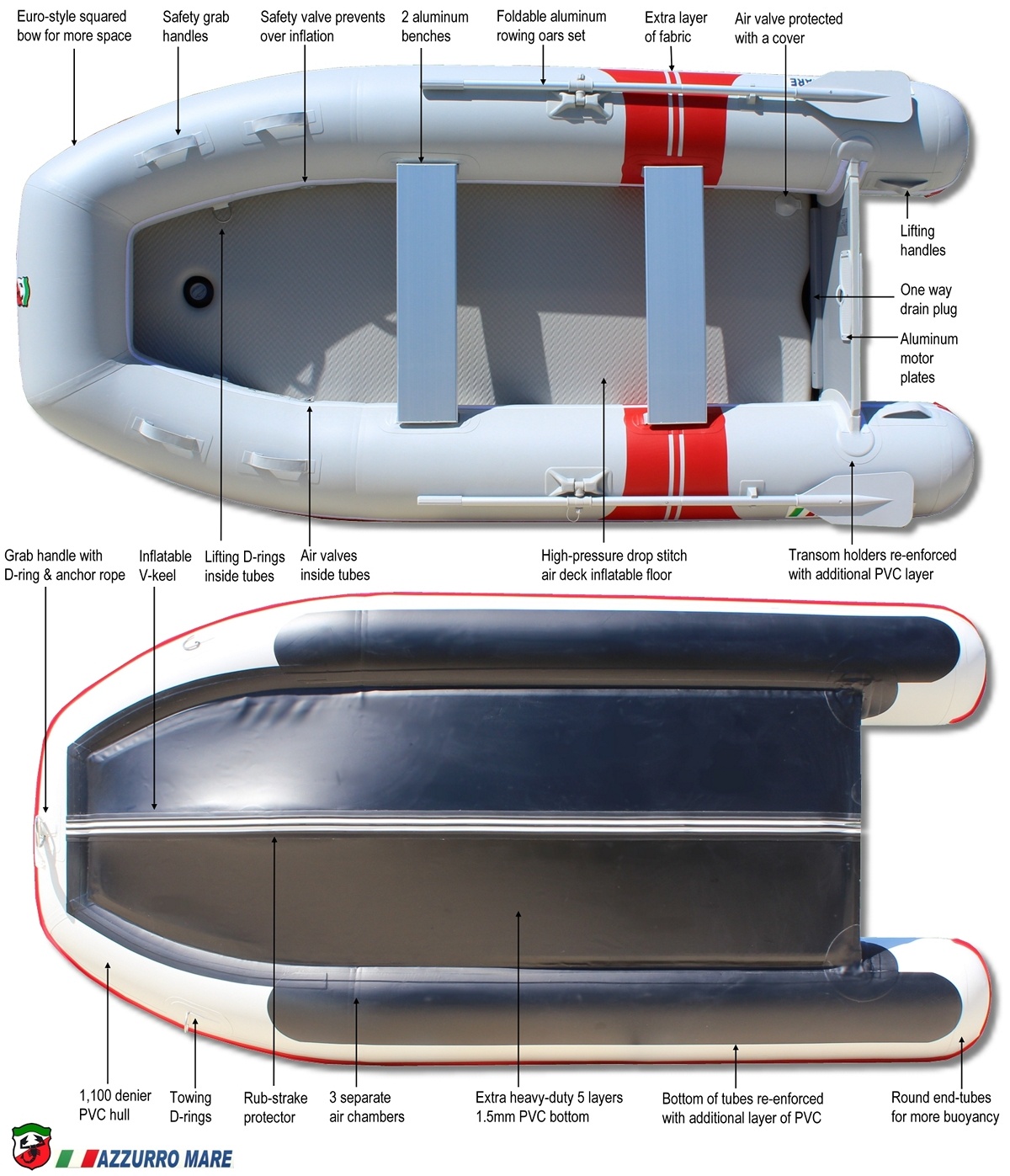 Azzurro Mare Inflatable Boat Tech Specs:
5 Year Manufacturers Warranty for transom and hull seams on all Azurro Mare boats.
Attractive Euro-style squared shape bow adds more useful space and capacity in front.
The V-shaped bottom hull of AM inflatable boats is made of Extra heavy-duty 1.5mm PVC, which is almost twice of thickness of our standard heavy-duty 0.9mm (1,100 denier) PVC.
The bottoms of the tubes are also covered with an additional layer of the same 1.5mm PVC. That makes nearly 3.0mm of extra heavy-duty PVC in order to puncture an air chamber from the bottom surface.
Our round end tubes provide more buoyancy and support for heavier engines.
The transom holders are re-enforced with an additional layer of PVC to protect against UV-rays.
Two lifting D-rings added inside front bow for the securing of additional equipment and easier towing behind a yacht, cruiser, or sailboat.
The inflation air valve in the inflatable floor is protected with a cover to keep dirt, sand, and water away.
Three separate internal air chambers provides extra protection should an air chamber ever have a leak or deflate.
One-way drain valve with plug makes for easy exit of water.
All around durable rubber strike provides protection where most wear occur when docking or tying off to another boat.
A pressure relief safety valve has been installed in the side tubes to protect against over inflation due to dramatic temperature or pressure changes.
Our stainless steel D-rings provide easy towing.
Upgraded C7 style inflation valves.
Installed front bow D-ring with integral lifting handle.
Spare rope for attaching anchor is included.
High-pressure drop stitch air floor is included (rated over 8 psi - over 200% more rigid than most inflatable boats).
Deep inflatable V-keel with a rub strake protector.
Extremely rigid, lightweight hull for maximized performance.
Included lightweight and strong removable aluminum seat bench.

A free second bench is included when order is placed on-line! ($50 value)

Our heavy-duty marine grade plywood transom supports up to a 10HP outboard motor.
Included equipment: aluminum oars, repair kit, seat bench and carry bag.
Free, complimentary generic high-volume hand pump is now also included.
Free, complimentary tube covers, retail value over $300 are included.
For the list of optional available accessories please contact us or visit our Accessories section (we highly recommend investing in the dinghy wheels)
Boat Specification
Floor:
Inflatable Floor (8psi)
Max Outboard Motor:
10 HP (15" Shaft / 100 lbs)
Nylon Carrying Bag:
Included Standard
Packing Size:
45" x 24" x 13"
Paddles:
2 Oars Included (Alum.)
Rubber Strake Protection:
Included Standard
Total Weight (Incl. Floor):
110 lbs (Air Floor)
Valves:
Upgraded Inflation and Pressure Valves